8 Best Neighborhoods in Aurora Colorado
Posted by Conrad Steller on Monday, October 23, 2023 at 9:23:15 AM
By Conrad Steller / October 23, 2023
Comment
Aurora, Colorado is a culturally and economically diverse city being the third most populous city in the state. There are approximately 386,261 people who call Aurora home, which comprises Arapahoe County, Adams County, and Douglas County. This city serves as the gateway to the Rocky Mountains—providing a stunning backdrop if you call it home. Aurora attracts college graduates as well as families looking for a new city to plant their roots. If you love the outdoors, Aurora is full of 8,000 acres of open space, where you can find multiple reservoirs, parks, and trails to explore the city. Finding the right neighborhood that fits you and your family is very important.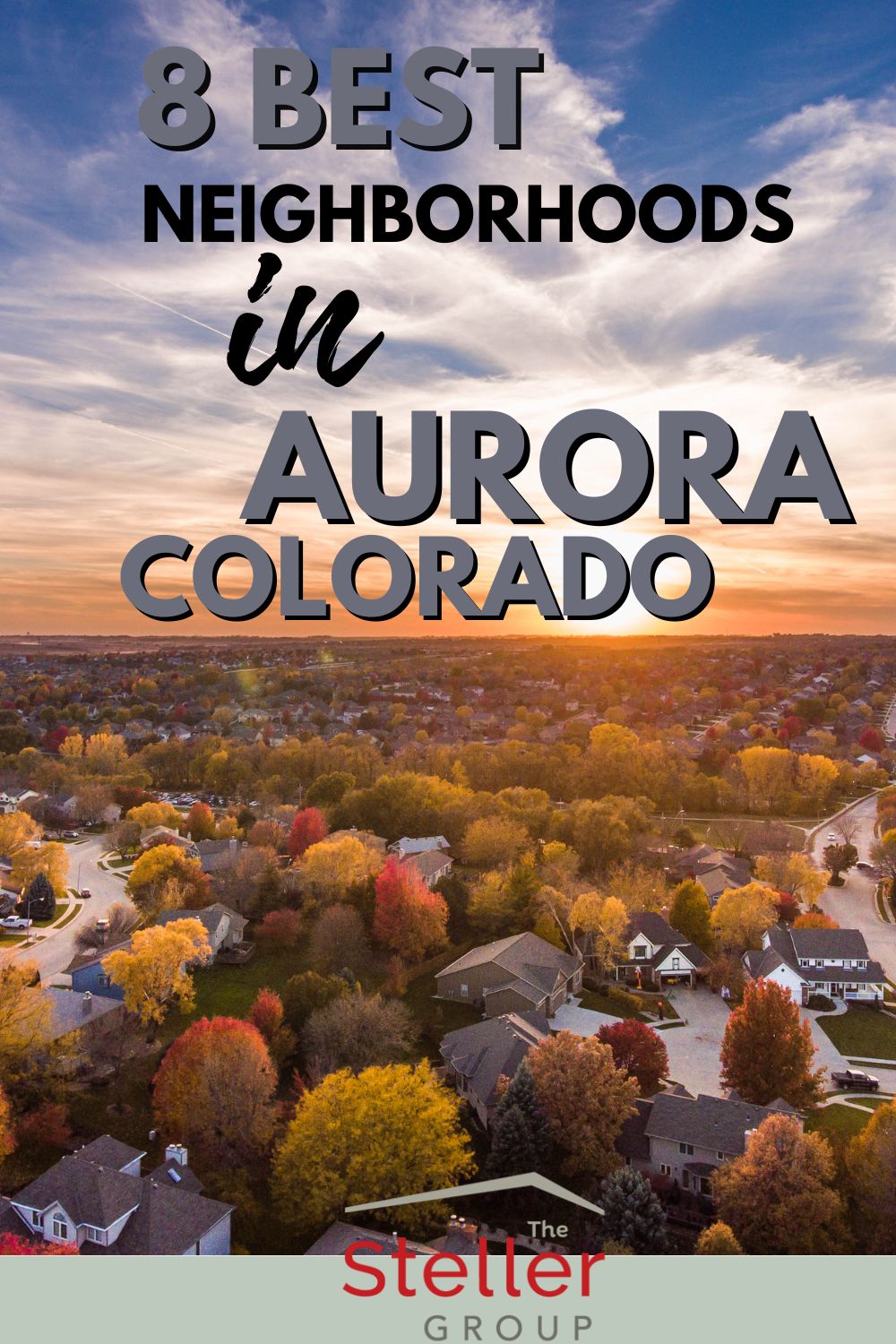 Continue to read with the help of the neighborhood guide and learn about the city's best, most popular neighborhoods.
Located close to Denver, the Seven Hills neighborhood is in a convenient spot and is a more affordable place to live. Living in Seven Hills offers residents plenty of shopping, movie theaters, and grocery stores. Known for being extremely family-friendly, this neighborhood is a good spot for first-time homebuyers. The median price point for buying a home in Seven Hills is $411,000. The homes are a bit aged, though it is a community that is well taken care of. The neighborhood offers many parks and outdoor spaces nearby, so families with children can enjoy the outdoors in a safe environment. Children living in this neighborhood will either attend Cherry Creek School District or Aurora School District.
Local Favorites:
Located in southeast Aurora, Tallyn's Reach is a beautiful area with pristine landscaping and many pine trees that surround this suburban neighborhood. There are trials within this community where you can go for walks with your dog and your family. Tallyn's Reach is a bit more pricey than the last, with the median home price set at $590,000. The neighborhood offers great amenities, from a clubhouse to a pool, tennis courts, and a playground. Children in the neighborhood would usually attend the Cherry Creek School District, full of excellent schools and is a highly sought-after school district. A little further away from Denver, it will take 30 minutes without traffic, placing you minutes away from E-470, which can take you north to the airport, west to the mountains, and south to Colorado Springs.
Local Favorites:
This popular area is located the furthest southeast in Aurora, within a golf community. Blackstone offers a clubhouse with a restaurant inside, a workout facility, and a golf course. Just 10 minutes from the mall, there are several other stores and restaurants nearby. The median home price in this neighborhood starts at $700,000 and goes up from there. The homes built around the country club are nothing but extravagant, with homes running from 2,000 to 3,100+ square feet, with both ranch-style and two-story floor plans available. Properties available for purchase are a golf course, cul-de-sac, and mountain views.
Local Favorites:
This neighborhood is not one of your well-known communities in Aurora, though it is up-and-coming. Dam West is located right next to a brand-new King Soopers grocery store and shopping center. There are mostly single-family homes featured in this neighborhood, with the average home value around $300,000. This quieter suburban neighborhood doesn't have a lot going on, though there are options for renting apartments offered in Dam West, which start around $1,800/month.
Local Favorites:
The charming homes in 10 different neighborhoods make up Heather Ridge, which surrounds a public golf course and is known best for its safety, dog-friendliness, and proximity to parks and other golf courses. There is shopping and the best dining in Aurora nearby so you don't have to venture too far for what you need. The neighborhood is conveniently located close to the Aurora Regional Medical Center and the University of Colorado Medical Research Center and campus. This community is great for families because of its location in the nationally-ranked Cherry Creek school district. Apartments for rent in this neighborhood start at $1,379/month, and the median home prices start at $320,000.
Local Favorites:
This neighborhood is newer in Aurora, located by the reservoir, and the perfect spot for those who enjoy the lake life! There is lots of space to swim and walk on the nearby trails that weave into the neighborhood of Southshore. The community is full of well-kept yards, neighborhood block parties, and special events held at the clubhouse throughout the year. Located near plenty of shopping, living in Southshore offers easy access to the highways, and is right next to the Blackstone neighborhood. A lot is going on in this neighborhood, and you will pay a high price to own a home here. There are many new additions to the neighborhood, though some still pre-existing homes are going on the market at a starting price of $700,000 to $1.5 million+.
Local Favorites:
This neighborhood is conveniently located right next to downtown Aurora, within proximity to grocery stores, coffee shops, gyms, and other shops. Chambers Heights is a great place for young families to live as there are seven schools in the neighborhood, all from elementary through high school. The apartments in this community start at $1,317/month. Housing prices start at $185,000 and go up from there. This neighborhood is close to major roads without any through traffic.
Local Favorites:
This neighborhood is great for young professionals and families in Aurora because of its proximity to stores, restaurants, and grocery stores. The average cost of a home in Prides Crossing is $450,000, and rent in the area costs about $1,854/month. Established in the 1980s, this community has been home to Aurora for some time now, offering residents quick access to walking, biking, hiking, and fishing with beautiful Colorado views.
Local Favorites:
Bottom Line
Aurora is full of neighborhoods that offer something for everyone—from proximity to the hustle and bustle of Denver to the more quiet suburban lifestyle, you can find it here. Before you move, make sure to reach out to a handy real estate agent to guide you through the home-buying process. Contact Your Denver Realtor.