Denver Homes for Sale
Updated Real Estate in Denver
Welcome to the Mile High City! Denver Colorado, home to over 700,000 residents, is touted as one of the best places to live in Colorado. Living in The Mile High City is even more rewarding than visiting. By making it your home, you can embark on personal adventures, discover your cherished spots, and fully immerse yourself in the myriad offerings of the city.
Included below are homes for sale in Denver, CO. To learn more about any of these Denver real estate listings, simply click the "Request More Information" button while viewing the property details. We would love to provide you with property-specific disclosures, past sales history, recent sale dates and prices of homes nearby, and more! Don't forget to register for a free account to receive email notifications whenever new Denver listings become available. Or start your search for all Denver, CO real estate listings.
Read on below the listings to learn more about relocating to Denver and browse all Denver real estate listings below
Denver Homes for Sale
December 5, 2023
The content relating to real estate for sale in this web site comes in part from the Internet Data eXchange ("IDX") program of METROLIST INC® Real estate listings held by brokers other than The Steller Group are marked with the IDX Logo. This information is being provided for the consumers' personal, non-commercial use and may not be used for any other purpose. All information subject to change and should be independently verified. Click here for the full Terms of Use.
Relocating to Denver
The allure of Denver lies in its renowned ski slopes and breathtaking mountainous terrain, making it a major attraction for those seeking to relocate. The captivating blend of urban conveniences, cultural richness, and awe-inspiring natural beauty magnetizes over 17 million visitors annually. Moreover, this irresistible combination has sparked a notable surge in the number of individuals choosing to make Denver their new home.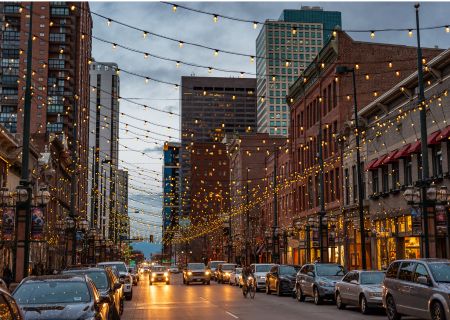 If you're contemplating a move to Denver, it's crucial to weigh the advantages and disadvantages of daily life in the city, and that's where Steller Real Estate can help. Why make Denver your home? Here are just some of our favorite reasons!
Outdoor Recreation:
Denver, nestled near the majestic Rocky Mountains, boasts a remarkable reputation for its unparalleled outdoor recreation opportunities. With its close proximity to this iconic mountain range, residents and visitors alike are treated to an array of exhilarating activities in a breathtaking natural playground.
Hiking enthusiasts are in for a treat as Denver serves as a gateway to an extensive network of hiking trails. From scenic foothill paths to challenging alpine treks, there are options available for all skill levels. One can explore the picturesque landscapes of Red Rocks Park, renowned for its stunning red sandstone formations and incredible amphitheater, or venture further into the Rocky Mountain National Park, which offers unparalleled beauty and abundant wildlife.
During the winter months, Denver transforms into a winter sports paradise. Skiing and snowboarding enthusiasts flock to the world-class resorts situated just a short drive from the city. Places like Vail, Breckenridge, and Aspen are renowned for their pristine slopes, powdery snow, and top-notch facilities, attracting winter sports enthusiasts from around the globe.
For those seeking a more serene winter adventure, cross-country skiing and snowshoeing trails abound in the surrounding areas. The quiet, snowy landscapes provide a tranquil escape where one can immerse themselves in the beauty of the winter wonderland.
Beyond the mountains, Denver offers a multitude of outdoor activities on its doorstep. Whitewater rafting along the thrilling rapids of the Colorado River, mountain biking on exhilarating trails, rock climbing on picturesque cliffs, and fishing in pristine lakes and streams are just a few of the adventures awaiting outdoor enthusiasts.
Nature lovers will be delighted to discover the wealth of national parks near Denver. Rocky Mountain National Park, just a short drive away, boasts breathtaking vistas, alpine meadows dotted with wildflowers, and the opportunity to witness elusive wildlife such as elk, bighorn sheep, and black bears in their natural habitat. Other notable parks in the vicinity include Great Sand Dunes National Park, known for its towering sand dunes, and Garden of the Gods, renowned for its stunning rock formation
Mild Climate:
Denver enjoys a mild climate with four distinct seasons. While winters can be cold, the city experiences over 300 days of sunshine per year. The relatively dry climate and low humidity are appealing to many people.
Strong Job Market:
Denver boasts a thriving and robust economy, characterized by a diverse range of industries that provide ample opportunities for professionals across various fields. The city has emerged as a flourishing hub for technology, attracting numerous tech companies and startups that fuel innovation and technological advancements.
Additionally, Denver's aerospace sector has been flourishing, with the presence of major aerospace corporations and research institutions driving the industry's growth. The energy sector is also significant, with renewable energy companies and a focus on sustainability playing a pivotal role. Healthcare is another prominent industry, with world-class hospitals, medical research facilities, and a strong presence of healthcare providers. Moreover, Denver serves as a regional financial center, housing major banks, investment firms, and a robust financial services sector. The city's continuous job growth is a testament to its thriving economy, making it an attractive destination for professionals seeking diverse career opportunities.
Cultural and Entertainment Scene:
Denver's cultural and entertainment offerings are nothing short of vibrant and diverse. The city boasts a thriving arts scene, with a plethora of art galleries showcasing local and international works. Art enthusiasts can explore a wide range of artistic styles and mediums, from contemporary and modern art to traditional and indigenous creations.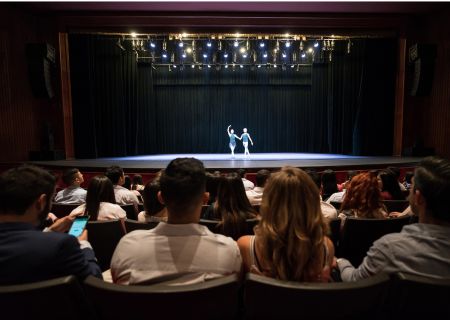 Museums in Denver cater to a variety of interests, providing a rich tapestry of history, science, and art. The Denver Art Museum is a cultural gem, featuring an extensive collection of artwork from around the world. The Denver Museum of Nature & Science offers captivating exhibits on natural history, space exploration, and anthropology. History buffs can delve into the past at the History Colorado Center, which showcases the state's fascinating history through interactive exhibits.
The city's theater scene is vibrant and dynamic, with a range of venues presenting an array of productions. From Broadway musicals to thought-provoking plays, theater enthusiasts can enjoy a diverse selection of performances throughout the year. The Denver Performing Arts Complex stands as one of the largest performing arts centers in the nation, housing several theaters and hosting a wide range of shows, including ballet, opera, and symphony performances.
Music lovers are in for a treat with Denver's lively music scene. The city offers an abundance of venues that cater to various genres, from intimate jazz clubs to larger arenas hosting world-renowned artists. Red Rocks Amphitheatre, a legendary open-air venue carved into majestic red rocks, stands as a must-visit destination for unforgettable live performances. The city also hosts music festivals throughout the year, attracting both local and international talent.
Denver's calendar is filled with exciting festivals and events that celebrate the city's culture and diverse interests. The Denver Film Festival showcases a curated selection of independent and international films, drawing cinephiles from near and far. The Great American Beer Festival, one of the largest beer festivals in the world, showcases a vast array of craft brews, delighting beer enthusiasts with unique flavors and styles.
In addition to these notable events, Denver hosts a multitude of street fairs, food festivals, art walks, and cultural celebrations that reflect the city's vibrant and inclusive spirit.
Craft Beer and Food Scene:
Denver is known for its booming craft beer industry, with a large number of microbreweries and brewpubs. The city also has a thriving culinary scene, offering a wide range of cuisines and dining options.
Denver's reputation as a haven for craft beer enthusiasts is well-deserved, thanks to its booming craft beer industry. The city is home to a plethora of microbreweries and brewpubs that cater to beer connoisseurs seeking unique and flavorful brews. Renowned breweries such as Great Divide Brewing Co., known for its innovative beers and bold flavors, consistently earn high praise from locals and visitors alike. Another top-rated brewery is Denver Beer Co., a beloved spot that offers a diverse selection of craft beers and a lively atmosphere.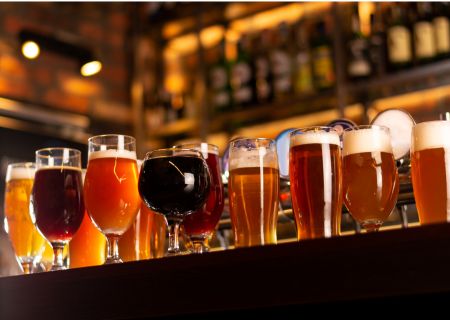 In addition to the craft beer scene, Denver boasts a thriving culinary landscape that tantalizes taste buds with a wide array of cuisines and dining options. Acclaimed restaurants such as Frasca Food and Wine, led by award-winning chef Lachlan Mackinnon-Patterson, serve up exquisite Italian-inspired dishes paired with an extensive wine list. For those seeking innovative and artfully presented plates, Fruition Restaurant consistently earns accolades for its seasonally driven menus and farm-to-table ethos.
For an elevated dining experience, Denver boasts exceptional steakhouses like Guard and Grace, led by renowned chef Troy Guard. This upscale establishment offers prime cuts of beef, expertly prepared and paired with an impressive selection of wines. Another noteworthy restaurant, Rioja, led by celebrated chef Jennifer Jasinski, showcases Mediterranean-inspired cuisine with a creative twist, utilizing locally sourced ingredients to create unforgettable flavor combinations.
For those looking for a more casual yet equally exceptional dining experience, Denver's food truck scene is a must-explore. Grey Duck Eats, a popular food truck, offers a variety of dishes with fresh ingredients and flavorful combinations. Their menu includes items such as avocado with local greens and pickled red onions, beets paired with goat cheese and sunflower seeds, chicken with bacon and apple, braised pork belly with pickled purple cabbage, roast beef with smoked mayo and crispy onions, smoked salmon with cream cheese and cucumbers, and spuds featuring confit potatoes and cheese curds. Each dish is garnished with dill and microgreens, creating a vibrant and delicious dining experience.
These are just a few examples of the top-rated breweries and restaurants in Denver, highlighting the city's commitment to culinary excellence and craft beer innovation. With an abundance of options, food and beer enthusiasts will find themselves immersed in a world of flavors and experiences, making Denver a true destination for gastronomic exploration.
Active Lifestyle:
Denverites tend to lead active and healthy lifestyles. The city promotes fitness and outdoor activities, with numerous bike lanes, parks, and recreational areas. The availability of recreational activities and a generally health-conscious population can be appealing to those seeking an active lifestyle.
Denver Schools
If you're considering a move to Denver and want to know about the schools in the area, Denver Public Schools (DPS) is the primary public school system serving the city. DPS educates approximately 92,000 students across a wide range of grade levels. The system includes 92 elementary schools, 44 K-8 schools, 34 middle schools, 18 high schools, and 19 charter schools. The district has a rich history, with the first school opening in 1859, which eventually became East High School. The city's four directional high schools—East, West, North, and South—were among the first high schools in Denver. The boundaries of the district align with the city limits. It's worth noting that some areas with Denver postal addresses outside the city limits are served by the Cherry Creek School District.
In addition to the public schools, Denver is home to numerous colleges and universities. The Auraria Campus, located in downtown Denver, is a major educational hub that houses three public institutions: the University of Colorado Denver, Metropolitan State University of Denver, and Community College of Denver. The University of Denver, a private institution established in 1864, holds the distinction of being the city's first higher learning institution. Other notable higher education institutions in Denver include Johnson & Wales University, Regis University (a Catholic Jesuit university), and various Roman Catholic and Jewish institutions. The city also boasts a health sciences school. Additionally, there are several schools and educational facilities throughout the greater Denver metropolitan area.
Denver Real Estate
Denver offers a diverse range of real estate options to cater to various preferences and lifestyles. The city's real estate market encompasses a variety of property types, including condos, townhouses, mansions, gated subdivisions, and golf communities.
Condos are a popular choice for urban living in Denver. They typically offer a lower-maintenance lifestyle, with amenities such as fitness centers, rooftop terraces, and concierge services. Many condos are located in vibrant neighborhoods with convenient access to downtown areas, restaurants, and entertainment venues.
Townhouses are another prevalent option in Denver's real estate market. These multi-level residences often feature attached garages, outdoor spaces, and shared amenities like community pools or parks. Townhouses provide a balance between single-family home living and the convenience of shared maintenance.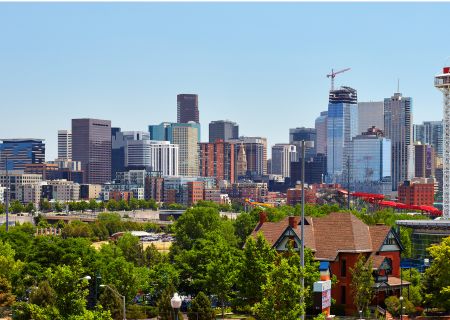 For those seeking luxurious and expansive properties, Denver offers a selection of mansions. These high-end residences showcase exquisite architecture, premium finishes, and extensive amenities such as private pools, home theaters, and sprawling outdoor spaces. Mansions are typically located in exclusive neighborhoods and offer a sense of privacy and grandeur.
Gated subdivisions provide an additional layer of security and exclusivity. These communities often feature controlled entrances, private amenities like parks or clubhouses, and meticulously landscaped common areas. Gated subdivisions can offer a range of property types, including single-family homes, townhouses, or even luxury estates.
Denver is also home to several golf communities, catering to golf enthusiasts who value the convenience of having a golf course within close proximity to their residence. These communities often feature private golf courses, clubhouses, and other amenities designed to enhance the golfing lifestyle. Properties within golf communities can include single-family homes, townhouses, or condos.
What Local Residents Think About Denver - What's it really like to live in Denver?
"Do you like enjoying the atmospheric feel that is the outdoors? Waking up in the morning and overseeing the mountains in the distance with a mug of coffee in your hands and a pup by your side? Colorado is your spot! Denver is an amazing and ever-growing city, filled with opportunities within all various fields. Whether it's a job, a new hobby to pick up on, new friends to make, an event to go and socialize at or figuring out the next brewery to hit, Denver provides it all! Never have I felt unsafe walking around the streets of Denver, day or night, and the positive radiance of dog-owners walking their pups everywhere will keep a smile on your face! With the mountains being only 20 minutes away from the metro area, there is much to see, do and be a part of throughout your living experienced in Denver. We have everything here except a beach! And even then... Cherry Creek Reservoir provides!" - Niche.com - Read more reviews here:
For more information on Denver real estate, please don't hesitate to reach out to our staff and real estate team. We help all types of residents find their perfect home and neighborhood in Denver. It can be overwhelming but with the assistance of a great team, you know you're in good hands for years to come.
Contact Your Denver Realtor®